Fidlock Twist 600ml Bottle and Base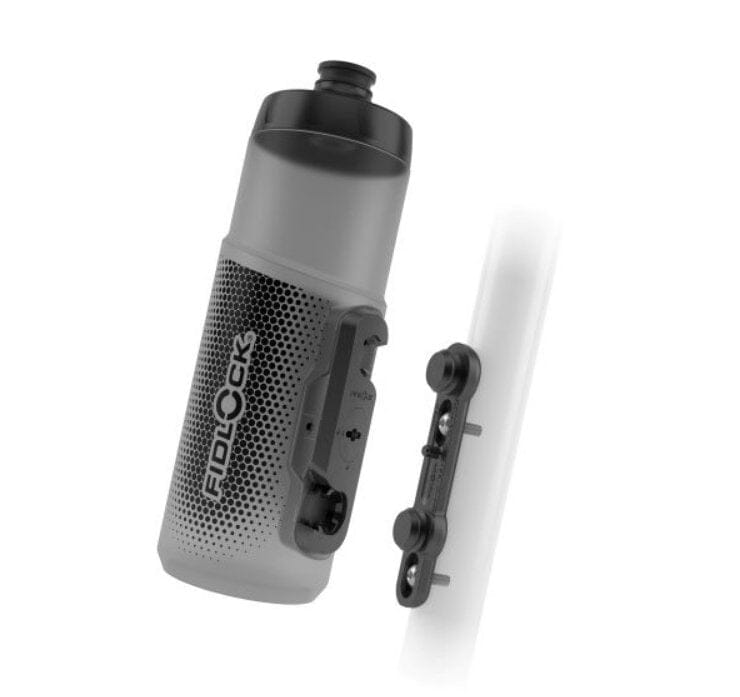 Interest free finance with Gem Visa/ Gem CreditLine

Apply online - Pay instore or online at the checkout

6 months 0% interest available when you spend more than $250

12 months 0% interest available when you spend more than $500

18 months 0% interest available when you spend more than $1000

INSTORE ONLY - 24 months 0% interest available when you spend more than $2000.
Excludes eBikes and discounted items.
T&Cs & fees apply incl. a $55 Gem Visa estb. fee & annual fees ($52 Gem Visa (charged $26 half yearly) / $55 Gem CreditLine (charged $27.50 half yearly)). Interest rate (currently Gem Visa 26.99% p.a. / Gem CreditLine 29.95% p.a.) applies after interest free term ends. Credit provided by Latitude Financial Services Ltd.
Fidlock Twist 600ml drink bottle and base for bicycle
With the all-new TWIST BOTTLE 600 Fidlock-Bike redefines the future of the bike bottle and their mounting. Thanks to an innovative magnet-mechanical closure system functionality and handling are so advanced compared to what we all know.
The bottle itself with a molded system contains two magnets and a mechanic fixture. The two magnets find their counterpart automatically and guide the bottle into the right position. Then with a "klick" the mechanic fixture comes in place to hold the bottle properly, even on gravel or hard off road trails. For drinking it is a clockwise TWIST to release the bottle from the male part at the frame.

The advantages are obvious: the Fidlock Bottle TWIST 600 can be mounted to all frames, especially to those where a normal bottle-cage-system wouldn´t find enough room. Think about modern full suspension frames, small sized frames, kids bikes frames etc – and of cause the Bottle 600 looks amazing on all frames! And for sure you could go Enduro, Freeride, Triathlon, road, gravel or just a pavement ride with it!
Also a better, safer and quicker handling is on the pro list of the TWIST BOTTLE 600. No look down needed anymore because of the magnetic guidance – so keep your eyes on the road, the trail, the traffic…..and think of all this annoying rattling noise – gone thanks to our quiet and innovative technology!
Easy mounting with all BCM 64 bottle cage mounts
TWIST technology - intuitive handling
Magnetic guide and mechanic locking system
Stays in place safely – no more lost bottles
No annoying rattling any more
Fits even into smallest frames
Ergonomic bottle shape
Excellent squeeze
Bottle at a full suspension bike – no problem!
Dishwasher safe
Complete Bikes
Due to warranty and supply agreements, all bicycles must be collected from one of our stores.
Note: we also do free setup on all new bikes so allow a bit of extra time (approx. 20 minutes) when you are collecting the bike for us to get it dialled in for you.
$8.99 Flat Rate Nation Wide Shipping or get Free Shipping over $99
Excludes bikes (pick up in store only), bike racks, and baby seats (contact us for shipping prices). Postal addresses must be business or residential address, we cannot ship to PO Boxes.
Our stock is split over 2x locations (item location and availablity shown on product page) so we may send orders out in separate packages or collate an order before shipping which could take longer. On items that are just coming from one location we endeavour to ship all orders placed before 3pm Mon-Fri on the same day. Any orders placed after 3pm, or over the weekend, will be sent on the next business day.
Delivery time is usually 3-5 business days from time of collection for North Island and South Island non-rural customers. Please allow an additional 1-2 business days for rural deliveries, depending on your area. These times are estimates only and may vary.
Please note that while we allow returns the item needs to be in as new condition and may incur a 20% restocking and/or we may on-charge freight if you have just changed your mind on a free shipping order.
Address for returns:
Pitcrew Bikes
128 Target Road, Glenfield, Auckland 0627
At Pitcrew we carry all the products on our website in stock in our stores in Pukekohe and North Shore. If you have any questions about the product, feel free to contact us before ordering to discuss your requirements.