Shimano XT SM-RT76 6-Bolt Disc Brake Rotor - 203mm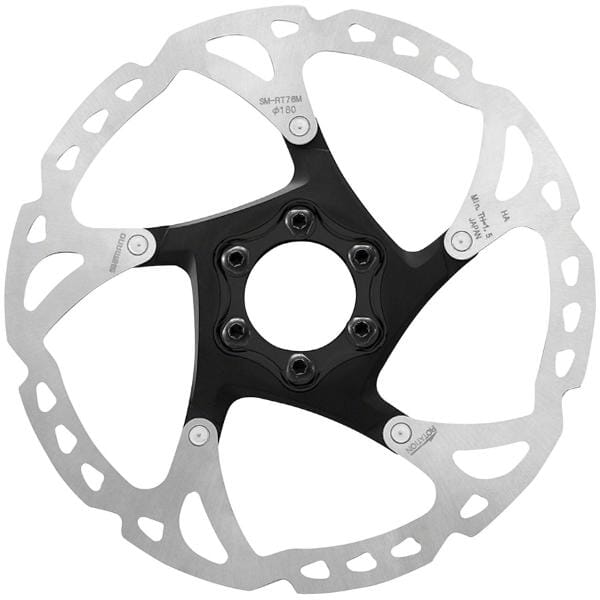 Interest free finance with Gem Visa/ Gem CreditLine

Apply online - Pay instore or online at the checkout

6 months 0% interest available when you spend more than $250

12 months 0% interest available when you spend more than $500

18 months 0% interest available when you spend more than $1000

INSTORE ONLY - 24 months 0% interest available when you spend more than $2000.
Excludes eBikes and discounted items.
T&Cs & fees apply incl. a $55 Gem Visa estb. fee & annual fees ($52 Gem Visa (charged $26 half yearly) / $55 Gem CreditLine (charged $27.50 half yearly)). Interest rate (currently Gem Visa 26.99% p.a. / Gem CreditLine 29.95% p.a.) applies after interest free term ends. Credit provided by Latitude Financial Services Ltd.
Shimano's XT RT76 6-Bolt disc rotor provides excellent performance through an advanced contact surface area. Developed for excellent pad clearing and cooling, the Shimano XT RT76 6-Bolt disc rotor increases pad performance and life.
Precision cut from stainless steel, this disc rotor improves braking performance in muddy conditions whilst aiding cooling under high load. A large forged alloy spider supports the rotor surface and works to decrease overall weight and increase rigidity.
Features:
Large forged alloy spider supports rotor surface, increasing rigidity and reducing weight
Comes complete with mounting hardware
Precision Cut Disc Rotor
Specifications:
Mounting - 6-Bolt
Weight - 209g (203mm)
Material - Stainless Steel Braking Surface and Forged Alloy Spider
Complete Bikes
Due to warranty and supply agreements, all bicycles must be collected from one of our stores.
Note: we also do free setup on all new bikes so allow a bit of extra time (approx. 20 minutes) when you are collecting the bike for us to get it dialled in for you.
$8.99 Flat Rate Nation Wide Shipping or get Free Shipping over $99
Excludes bikes (pick up in store only), bike racks, and baby seats (contact us for shipping prices). Postal addresses must be business or residential address, we cannot ship to PO Boxes.
Our stock is split over 2x locations (item location and availablity shown on product page) so we may send orders out in separate packages or collate an order before shipping which could take longer. On items that are just coming from one location we endeavour to ship all orders placed before 3pm Mon-Fri on the same day. Any orders placed after 3pm, or over the weekend, will be sent on the next business day.
Delivery time is usually 3-5 business days from time of collection for North Island and South Island non-rural customers. Please allow an additional 1-2 business days for rural deliveries, depending on your area. These times are estimates only and may vary.
Please note that while we allow returns the item needs to be in as new condition and may incur a 20% restocking and/or we may on-charge freight if you have just changed your mind on a free shipping order.
Address for returns:
Pitcrew Bikes
128 Target Road, Glenfield, Auckland 0627
At Pitcrew we carry all the products on our website in stock in our stores in Pukekohe and North Shore. If you have any questions about the product, feel free to contact us before ordering to discuss your requirements.