Ergon SM Enduro Comp Mens M/L Saddle Stealth/Oil Slick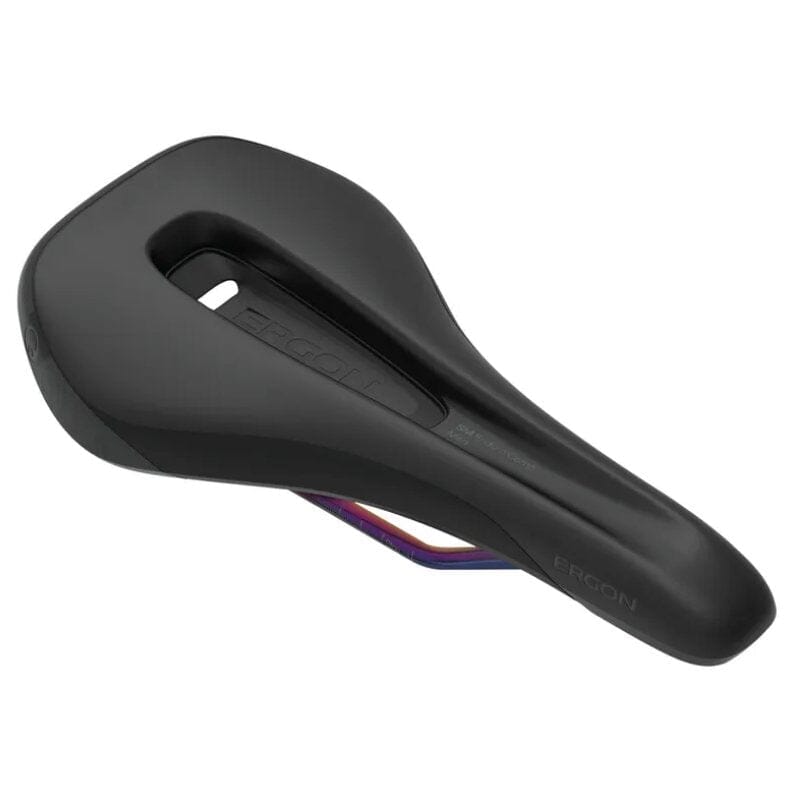 Interest free finance with Gem Visa/ Gem CreditLine

Apply online - Pay instore or online at the checkout

6 months 0% interest available when you spend more than $250

12 months 0% interest available when you spend more than $500

18 months 0% interest available when you spend more than $1000

INSTORE ONLY - 24 months 0% interest available when you spend more than $2000.
Excludes eBikes and discounted items.
T&Cs & fees apply incl. a $55 Gem Visa estb. fee & annual fees ($52 Gem Visa (charged $26 half yearly) / $55 Gem CreditLine (charged $27.50 half yearly)). Interest rate (currently Gem Visa 26.99% p.a. / Gem CreditLine 29.95% p.a.) applies after interest free term ends. Credit provided by Latitude Financial Services Ltd.
Ergon SM Enduro Comp Mens mountain bike saddle
Size - M/L
Colour - Black Stealth / Oil Slick
Full action with comfort
Developed from 5 years EWS experience
Perfect feedback in the field
You want to shred like the pros? Want the optimal mix of comfort and freedom of movement? Then let us introduce the SM Enduro Comp Men. Developed with world-class professionals from the Enduro World Series, it lets you master every line at full speed. With the it's narrow seated surface and padded edges, you get perfect feedback from the trail. Ride with feeling - the SM Enduro Comp Men takes your trail skills to a whole new level.
PRESSURE RELIEF – Anatomically adapted
The design of the SM Enduro Comp Men provides both ergonomically specific support and pressure relief for the male anatomy. Additionally, the design features a special anti-friction material at the rear of the saddle. This material reduces friction and allows the rider to easily change positions in a dynamic riding position.
360° EDGE PADDING – All-around comfort
The saddle's primary function is to guide the bike through demanding terrain. For maximum comfort, the entire outer perimeter of the saddle is padded.
AIRCELL CLOSED CELL-FOAM – Optimal pressure distribution
The CNC-milled, closed-cell AirCell foam guarantees enhanced support and optimal pressure distribution. The flexible side wings of the SM Comp Titanium Men reduces pressure on the inner thighs and allows for optimal power transmission into the pedals.
FLAT REAR – Maximum freedom of movement
The flat V-shape design and sloping rear of the SM Enduro Comp Men allows for maximum freedom of movement. You can change your seating position quickly and easily at any time through demanding terrain.
Men's Health
The Ergon development team dove into intensive research on the topic of men's health. In cycling, the main complaints come from the saddle. For men, an improperly fit saddle can cause too much pressure on the highly sensitive perineal are which can lead to both temporary to long lasting health issues and discomforts. Through extensive development and analysis of MRI and CT scans, numerous prototypes and test rides, the SM Enduro Comp Men was created to alleviate perineal pressures while supporting the rider's performance needs.
Made for every racing position
The shape of the SM-Enduro series accommodates for frequent and dynamic changes of seat position and seat height. The result is a saddle that effectively relieves and reduces pressure in many different riding positions encountered while riding demanding terrain.
The right size
The shape and size of the saddle must match the distance between the rider's sit bones.
Since the pelvic bones taper forward in a v-shape, the saddle must be able to provide a sufficiently large contact surface for the bony structures in different seating positions. The saddle widths are chosen so that the usable seat surface corresponds to the distance between the sit bones.
The more bent forward a rider sits, the further forward the sit bones touch the saddle.
Technical Specifications
Name: SM Enduro Comp Men
Use: Enduro
Weight: 245 g* (S/M), 250 g* (M/L)
Size: S/M, M/L
Shell: Nylon Composite
Rail: CroMo
Cover: Microfiber
Padding: Orthopedic AirCell Foam
Side Flanks: Yes
Edge Protection: Yes
Gender: Men's specific
Complete Bikes
Due to warranty and supply agreements, all bicycles must be collected from one of our stores.
Note: we also do free setup on all new bikes so allow a bit of extra time (approx. 20 minutes) when you are collecting the bike for us to get it dialled in for you.
$8.99 Flat Rate Nation Wide Shipping or get Free Shipping over $99
Excludes bikes (pick up in store only), bike racks, and baby seats (contact us for shipping prices). Postal addresses must be business or residential address, we cannot ship to PO Boxes.
Our stock is split over 2x locations (item location and availablity shown on product page) so we may send orders out in separate packages or collate an order before shipping which could take longer. On items that are just coming from one location we endeavour to ship all orders placed before 3pm Mon-Fri on the same day. Any orders placed after 3pm, or over the weekend, will be sent on the next business day.
Delivery time is usually 3-5 business days from time of collection for North Island and South Island non-rural customers. Please allow an additional 1-2 business days for rural deliveries, depending on your area. These times are estimates only and may vary.
Please note that while we allow returns the item needs to be in as new condition and may incur a 20% restocking and/or we may on-charge freight if you have just changed your mind on a free shipping order.
Address for returns:
Pitcrew Bikes
128 Target Road, Glenfield, Auckland 0627
At Pitcrew we carry all the products on our website in stock in our stores in Pukekohe and North Shore. If you have any questions about the product, feel free to contact us before ordering to discuss your requirements.